I recently told ya'll about my interest in becoming a sort of cozy or comfy minimalist. I don't care much for titles, but I've discovered that it helps to give a name to something for the purpose of explaining it to others. So, here goes.
I just finished reading Minimalism: live a meaningful life and  both of Marie Kondo's books, The Life- changing Magic of Tidying up and Spark Joy. I talked about them in this post. Reading them inspired me to declutter and get rid of the unnecessary things that don't make me feel good. I rid myself and my home of a bunch of unnecessary stuff but what I kept had to be hella comfortable. Like, hella.
Why do people become minimalists?
Some people do it out of frugal reasons. Some people do it because material items were never a big deal to them.  Some people do it because they believe that there is more to life than things. I'm part of the latter. I probably will never be one of those people that can pack all their shit in one bag and go hiking across Europe. But my goal is to one day be the person that doesn't find sentimental value in a sheet of paper or a television set. If everything I own went up in flames, I want to eventually be ok with that. Na'Mean?
Speaking firsthand, it can be really tough to get rid of items with lots of sentimental value. I struggle with the sense of "but what if I might need it in the future, for some mundane likely- to -never- happen event?" I still struggle to not bring stuff into my home that I don't need. But I find that doing so helps me avoid the potential of accumulating clutter, in the first place.
Is getting rid of all crap the secret to life and living a carefree, spontaneous and happy existence. Doubt it. But it has helped me to get rid of things and relationships that I've been secretly holding onto. Let that shit go, fam!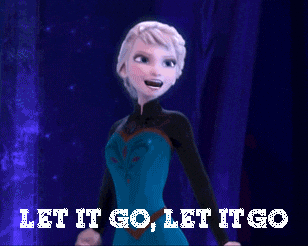 Let me be honest: I'm no frugal person. I still like nice shit. It's just that now, I focus on investing in quality shit versus cheap shit that doesn't last.  With every dollar I spend, I want it to be well spent and worthwhile. Quality over quantity.
Lifestyle titles, such as minimalism, should be taken with a grain of salt. At the end of the day, everyone should do what works best for you. If you thrive in an environment that is covered wall to wall with everything that sparks joy, or if everything in your closet is black and consists of t-shirts and leggings, keep it that way. Do whatever works for you.
Do you consider yourself a minimalist? Or rather a frugalist? Or neither? How do you cope with possessions, ownership, and materialism? Let me know in the comments!