If you live in the Atlanta area like myself, then you know that when we get snow, the city SHUTS DOWWNNNNNNNN.
This is a direct result of the infamous Snowmageddon that occurred in 2014:
We were mocked nationwide because of our lack of preparation for the two inches of snow that fell on that fateful afternoon of January 29th. Due to a combination of Government officials' poor planning and residents whom never had to drive in snow before…we were screwed.  Some people even compared it to a scene in The Walking Dead. Simply put, it was a terrifying situation.
Fast forward to this past Wednesday: Atlanta don't play that mess, anymore.
Government officials REFUSE to let another Snowpocalypse happen, again. Not on their watch.And I'm glad, to be honest. I legit hate leaving my warm bed on a regular day….but ESPECIALLY not when there is snow and ice outside. Ya'll can miss me with all of that.
However, the very next day, I had pull on my Big Girl Pants and go back to work.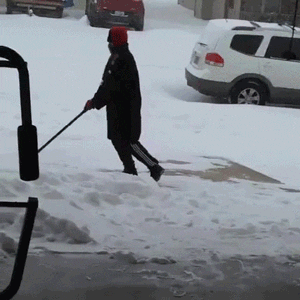 I thawed my car out and braved the dangerous streets of my suburban neighborhood. I managed to make it all of the way out of my complex and onto one of the main streets, and then it happened!
My car slipped a little on some ice.
It was then that I knew….that I done messed up!

Ok, I'm being dramatic. It really wasn't that bad. But it was enough to make me consider taking my a$$ back home and let my job know where exactly they had me effed up, at.
I didn't do that, of course. But whilst sitting in the middle of that road having a talk with the Universe, I did come to the realization that being forced to leave my house and brave the potentially dangerous streets just to clock in and work for a paycheck…was not the move. Don't get me wrong, I really like my job. However, I'm not so passionate about what I do there that I'm willing to risk it all to get there. That's for the birds.
With that being said…I need to figure some things out. I need to get my life together and determine what needs to be done in order to have the option to not do stuff I don't WANT to do but do it because I HAVE to. For a paycheck, nonetheless.
Did you enjoy snow in your area? Did you have to go to work in spite of? How do you feel about those that risk their lives in adverse environments to go to work? Let me know in the comments!